WMSJLS EVENT
October 19, 2021
7:00 pm @
Online
Abolish the Border: Global Migration, Racial Capitalism and the Case for No Borders
Walia is one of North America's foremost thinkers and immigrant rights organizers and delivers an unflinching examination of migration as a pillar of global governance and gendered racial class formation. She disrupts the explanation for the migrant and refugee crises, instead showing them to be the inevitable outcomes of conquest, capitalist globalization and climate change generating mass dispossession worldwide.
About the Speaker(s)
Harsha Walia
Harsha Walia is the award-winning author of Undoing Border Imperialism (2013). Trained in the law, she is a community organizer and campaigner in migrant justice, anti-capitalist, feminist, and anti-imperialist movements, including No One Is Illegal and Women's Memorial March Committee.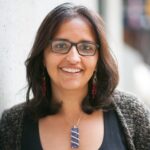 Sponsors:
This is event is co-sponsored with Haymarket Books.