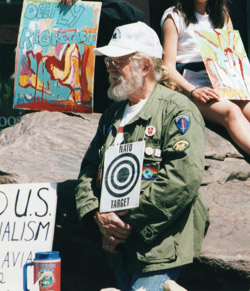 We created this site for you to reflect on how Will's words and actions have impacted your own life and how he influenced you, your thinking and/or your life. Will found these messages comforting and encouraging to read while he was fighting this disease.
Please continue to write testimonials on this website even though Will can no longer read them. They are a comfort to all of us who continue to visit the site to keep a connection with Will and with others who cared about him. We know that many people are coming back to the site to reread entries. We especially would like to continue to hear from you. It is a great comfort to us to know that others are out there and thinking about how Will influenced your life. At some point, Will's partner, Ann, might use these entries to help her write about Will and having all these stories about how Will effected your life will inspire that project and create a better picture of his life. He was an extraordinary man. Everyday, Ann thinks about how he influenced, comforted and assisted her in her own personal development. As he said in an article in Seven Days, he is with us in our memories and our actions. So, share with us your thoughts. Even if you have written before, write again as thoughts occur to you. We can be a comfort to each other and you may help us or others to write a biography about Will -- a person who spoke truth to power, never wavered in his belief that people can change the direction that the politicians and the corporations are taking us and would stand up and teach us with his vast knowledge and ability to connect the dots. He is missing from our lives but not in our hearts and minds.
To all of you who have written to Will and Ann, this has been an amazing journey down memory lane. We had so many conversations based on the words you have written. Will and I have been honored and caressed by your comments and thoughts. Thank you very much for sharing your words and emotions. We wish everyone had a website where others let them know how they feel. It makes no sense to wait until someone has died to gather together and talk without the person present. We encourage each of you to let others know how you feel. Every word of encouragement is fuel for continuing to do the work we do and be the people we want to be. Let others know how you feel and how they make a difference in the lives of others.
If you would like to send a message to Ann by "snail mail", the address is 10 Machia Hill Road, Westford, Vermont 05494. Or, if you want to send a personal message, not posted on the site, you can use Ann's email address alipsitt@sover.net.
We will be adding photos periodically so you may want to check back later read what others have written, view the pictures and maybe add another comment as it comes to you. If you have photos to add to the page, please send those to me and we will add them, too.