WMSJLS EVENT
October 12, 2022
7:00 pm @
Online & Waterman room 427, University of Vermont campus
The Secret Agenda Behind the Anti-Abortion Crackdown
We encourage you to attend in person, if you live near Burlington, Vermont. You can view this presentation on the University of Vermont campus in Waterman, room 427, with an after-talk discussion led by Maxine Flordeliza,UVM student and president of Planned Parenthood GenAction and Liz Medina,Vermont AFL-CIO Labor Council.
To view the event online, please register below.
About the Speaker(s)
Jenny Brown
Radical feminist and labor writer, Jenny Brown was a leader and plaintiff in the fight to get the morning-after pill over the counter in the US. She is co-author of the Redstockings book Women's Liberation and National Health Care: Confronting the Myth of America. A one-time editor at Labor Notes magazine, she coauthored How to Jump-Start Your Union: Lessons from the Chicago Teachers. She writes, teaches, and organizes with the feminist group National Women's Liberation and is the author of Birth Strike: The Hidden Fight over Women's Work. Jenny Brown's approach to the question of reproductive freedom is at once anti-capitalist, decidedly radical, and needed now more than ever.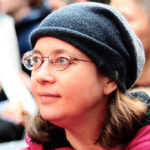 Sponsors:
UVM's Gender, Sexuality and Women's Studies program
Planned Parenthood GenAction
United Academics
Vermont AFL-CIO Labor Council
Burlington For Reproductive Justice
Vermont Reproductive Liberty Campaign